How to Use Ceiling Fans with Modern Décor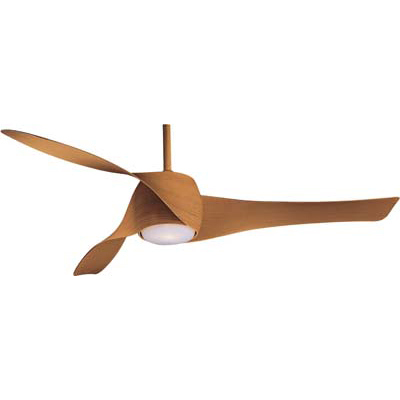 If you think a ceiling fan can look dated in your modern home, then think again. Contemporary ceiling fans are designed to perfectly match, boost, or enhance modern-style homes.
It is easy to underestimate the value of a ceiling fan as a decorative element. But if you are using one for cooling a room, why not use the ceiling fan in a way that also adds to your modern and comfortable home's décor? Whether you want to use a ceiling fan for its practical uses, as a decorative element, or may be for both utilities; its placement can help you define and enhance any room's style.
Here are some ideas to use ceiling fans with modern and contemporary decorative styles.
• If your modern décor has a lot of steel or metal elements, you can choose ceiling fans in nickel or chrome finishes. For example, Minka Aire ceiling fans in brushed nickel with silver blades in really simple styles are perfect for homes that feature clean and simple metallic accents.
• For industrial-style décors, you can select ceiling fans in metal finishes with long blades. With high ceilings, you can use fans with really large blade spans. If your living room is not large, you can use smaller fans in chrome finishes that feature unique designs such as retro elements, etched details, or wire components on the body.
• If subtlety is not something you want in your design accents, boost your modern décor with a contemporary fan style with one or two blades in striking white or metallic color.
• Do you have a monochrome theme going in your living room? If yes, then a ceiling fan in chrome and black with an etched light fixture can look really fantastic. If you want something simpler, select fans with three blades in black or white with or without light fixtures.
• Pastels feature very prominently in many modern decorative styles. White ceiling fans are ideal to use with pastels to really complement the décor and not to take away from the soft colors. With pastels, it is important to maintain the balance of colors in a space otherwise the design theme can appear shabby.
• For minimalist décor or living rooms with subtle colors and sleek furnishings; you have the opportunity to really augment this space with the use of a ceiling fan in a really dramatic design. If you choose a reputed brand of ceiling fan, you won't have any difficulty in finding flamboyant or striking designs that can complement any décor. For instance, with Minka Aire ceiling fans; it is easy to add a bit of theater to any space with designs that include multiple turbofans or blades of different sizes.
• Transitional décor is fluid with a mix of elements from traditional and modern styles. It offers the perfect opportunity to go all out with your ceiling fan choice without any restrictions to match the décor. Choose designs with metal etchings, pull chains, halogen lights, or whatever styles strike your decorative fantasy.
• With décors in earthy tones, use ceiling fans in deep shades of brown with or without metal ornamental designs. You can choose from cocoa and bronze finishes to even black fans with understated elegance.
• If your rooms feature bold colors, use white or black ceiling fans with three or five blades for maximum effect. The trick is to complement the loud color palette and not take away from it. Colors that invoke a fresh feeling such as leaf green, sunflower yellow, and azure look best with white ceiling and design elements. If your rooms have a crisp, fresh look to them, use white in abundance with fixtures and accents.
• For rooms with an airy feel or spaciousness; use fans in sleek designs that are modern yet classic.
When it comes to adding a ceiling fan to your home, treat it like any other design element that also has practical uses. Select a ceiling fan after you have finalized other elements for a space. Use your imagination to install ceiling fans to suit your own sense of style.