How to Choose a Traditional Floor Clocks for Your Home?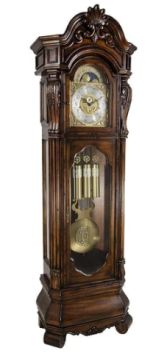 There is something majestic about traditional floor clocks. Using one for decorative purposes can augment any house's interior design. But it is important to consider some factors in order to buy the best floor clock for your home.
Placement
The first thing to consider before buying a floor clock is to decide on its placements. The style and the size of the clock will depend on this factor too. The beauty of floor clocks is that you can fill awkward niches or an empty corner in your house with one that fits into space.
If you are fitting one into an artificial doorway, then you might have a bit of a restriction with the size. You will need to choose the exact measurements to fit the clock perfectly into space. If you are buying the clock for staircase nooks or landings, then you have more freedom in terms of the size. Hallways offer even more leeway in terms of the length and breadth of the clocks. You can buy a narrow or broad clock depending on the dimensions of the space.
You will also need to account for proper ventilation in the area where you wish to place the clock. Traditional floor clocks are made with good quality solid wood. But you need to protect the wood from excess moisture and humidity. It is best to place these clocks in areas that are not too cold or too hot.
Once you are sure of the placement of the clock, you will be able to better decide on its style and size.
Style
Traditional floor clocks are available in different styles. Choose clocks with crown molding, half-turned columns, and stepped base for a simple and streamlined style. Opt for a clock with a split-swan neck design with a narrow body. Select one with a no-fuss design in walnut finish. In terms of finishes, you can select oak or cherry as well.
Choose from antique to distressed finishes. You can buy smooth polished clocks too. For traditional floor clocks, deep browns and black colors are more popular. But you can also opt for gray clocks for a bit of distinction mixed with a traditional antique flair.
Size
Traditional floor clocks are available in dimensions such as 80 x 18 x 11 inches to 77 x 19 x 10 inches and bigger or smaller than these sizes too. If you have restricted space for a floor clock, you can still choose one with slightly narrow dimensions. But ensure that the space is adequate for its height.
Features
Choose clocks with weight shells made with brass or antique dials. Select black frame paired with chimes in gold. Choose moon disks in clock dials for a bit of drama. You can also consider the width size of the pendulum when choosing a floor clock. You will find broad to narrow pendulums in different types of floor clocks. You will easily find broad pendulums in larger-sized floor clocks.
Chimes are distinct features of floor clocks. You can find Westminster, Whittington, and St Michael chimes in most traditional floor clocks. Westminster sound, however, is more widely used in the traditional style of floor clocks. These clocks come with a night shut-off automatic system. You can enjoy the chime sounds during the day and sleep without it disturbing your slumber during the night.
Cost
You can find traditional floor clocks to suit various budgets. Manufacturers and retailers offer seasonal discounts too on traditional floor clocks. So, you can take advantage of these discounts.
When it comes to buying traditional floor clocks, you will pay for superior quality, excellent craftsmanship, and a collector's treasure. You can accordingly choose your budget for the clock.
To Sum Up
Traditional floor clocks are not fashionable accessories. These clocks are passed down from one generation to the next. Modern floor clocks are made with precision when it comes to its movement. The woodwork also requires immense expertise and years of practice to produce superior quality of work.
With good care, expect quality clocks to last for many generations. So, it is best to choose a manufacturer and brand of traditional floor clocks known for quality workmanship.