Transform Your Bathroom by Adding Reclaimed Wood Vanity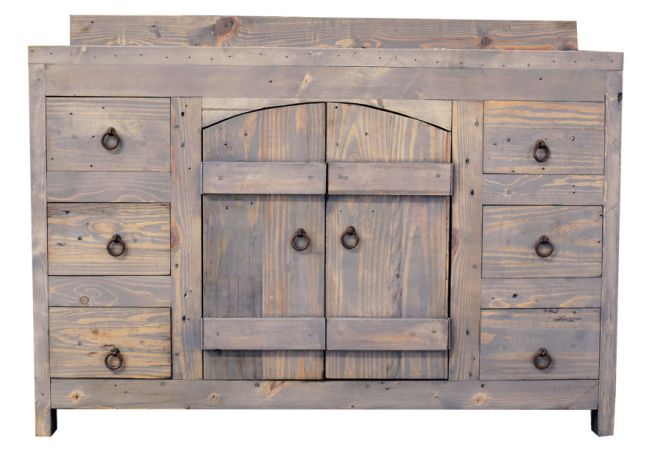 The popularity of reclaimed wood furniture is not unwarranted. It has the capability to transform simplest of spaces into design marvels. It is the wood reclaimed from old wooden structures. It is used everywhere from living rooms to bedrooms and even bathrooms. In fact, reclaimed wood bathroom vanities are heavily used in both modern and traditional décors to bring elements of beauty and elegance into small personal spaces.
You can use reclaimed wood vanities to instantly transform your bathroom into something new but with elegant touches of the past.
Reclaimed Wood –Age, Purpose and History
Modern furniture may look polished and fashionable. But it lacks depth and there is no story to tell with even the most expensive item in your house (except perhaps the one about the heavy expenditure amount).
Reclaimed wood imparts any space with a depth that comes with years of history. The salvaged wood in your bathroom vanity could be hundreds of years old. The age of the wood lends it characters. It infuses it with distinct colors and patterns.
The reclaimed wood used in your bathroom vanity continues to serve a purpose. It was perhaps used in a barn or as a fence in an old house. It now brings with it its history to a new space. It is impossible to create such soulful spaces with sleek modern furniture.
A reclaimed wood vanity can transform your bathroom with its richness and character. When you use reclaimed wood furniture, you are bringing home an eco-friendly item. You are bringing home a piece of the past to use in a modern setting.
The Old and the New – and Everything in Between
Reclaimed wood is perfect for contemporary décors. It can also sit comfortably in any traditional style home.
Metamorphose your modern bathroom with a touch of the classic by using a reclaimed wood vanity. Create lovely contrasts between modern bathroom fixtures and a rustic wood vanity. The beauty of reclaimed wood furniture is that it won't disturb the placement of other fixtures. It won't crowd your bathroom with loud design elements.
Reclaimed wood vanities are understated designed pieces to alter a space without taking away from it. You can use reclaimed wood vanities in a bathroom that has been designed with rustic elements. You can also use reclaimed wood vanities as a single decorative and functional unit. One side of your bathroom can be all modern and sleek; while the space near the door can be a comfy nook by using a wooden vanity with copper basin and a space for a rustic wicker basket underneath.
Transforming Spaces – Revolutionizing Designs
A modern bathroom looks the same in every household. The same sleek fixtures, the modern lighting pendants, and the similar-looking design patterns are what you get in most bathrooms in contemporary settings. The features of contemporary bathrooms speak in one language. How do you then create a space that is distinct and has character? How do you create a personal space that speaks your language?
Reclaimed wood solves this problem perfectly. You can keep your modern bathroom fixtures but add some character by using a reclaimed wood vanity along with everything else. Choose from pine, oak, or other wood varieties in your bathroom vanity. Select muted shades or bright colors – you have ample of choices.
With reclaimed wood vanities, you can portion your bathroom into two distinct spaces. Use the vanity to enjoy furniture that has been lovingly created from salvaged wood. Decorate the space around it with vintage light fixtures and an antique mirror. You can even by a reclaimed wood vanity with metallic features such as iron handles or carvings.
Design Investment – Creating Value
Reclaimed wood vanities can last a long time. You can buy vanities that come with protective polymer coatings to keep the wood safe from water damage. The polymer coating doesn't take away from the distinct wood look.
Reclaimed wood vanities can enhance the value of your bathroom and in turn your home. Reclaimed wood is about lasting value. Its impact is so revolutionary that it can instantly upgrade a home's décor.